Meilleur offre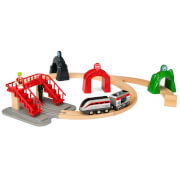 ZAVVI
79,49 €
3 févr. 2021
Les offres
3 offres
ZAVVI
BRIO World - Smart Tech Railway Engine Set with Action Tunnels
What will this battery-powered train do next? The adventure is up to you with the exciting 33873 Smart Tech Engine Set with Action Tunnels. Interactive play: The modern-looking Smart Tech Engine is the centrepiece of the play and can communicate with its surroundings, automatically responding with various train actions like lights, sounds and motion. By arranging the Smart Tech accessories in different ways around the railway track, you determine the trains journey and control the interactive play. Stop, go, play: When approaching the Smart Tech Bridge, the engine will automatically detect whether the stop signal is set to red or green. If the signal is set to red, the train will stop and wait to pick up the passenger who fits in the passenger wagon. Turn the signal back to green and the engine will start moving again automatically. Full of action: Each Action Tunnel creates a unique response from the Smart Tech Engine, and by actively moving them around the tracks, you change the trains journey. Use the red tunnel to stop the train, green to make it reverse in the opposite direction, and grey to make it honk its horn and flash its lights. Specifications: Width (mm): 590 Depth (mm): 514 Height (mm): 105 Pack width (mm): 450 Pack height (mm): 390 Pack depth (mm): 115 Pieces: 17 Battery needed: yes Battery included: no Number of AA batteries: 2 CE: yes FSC: yes Grüner Punkt: yes Light: yes Sound: yes Smart Tech Set with Action Tunnels includes 17 pieces: 1x Smart Tech Engine, 1x Passenger Wagon, 1x Passenger Figure, 1x Smart Tech Bridge, 3x Smart Tech Action Tunnels, 9x Wooden Tracks, 1x Track Stop.
79,49 €
3 févr. 2021
DARTY
Trains Brio 33873 circuit de voyageurs et locomotive intelligente
109,54 €
3 févr. 2021
FNAC
Brio World Smart Tech 33873 Circuit De Voyageur & Locomotive Intelligente
Fnac.com : Brio World Smart Tech 33873 Circuit De Voyageur & Locomotive Intelligente - Univers miniature. Achat et vente de jouets, jeux de société, produits de puériculture. Découvrez les Univers Playmobil, Légo, FisherPrice, Vtech ainsi que les grandes marques de puériculture : Chicco, Bébé Confort, Mac Laren, Babybjörn...
114,96 €
3 févr. 2021