Meilleur offre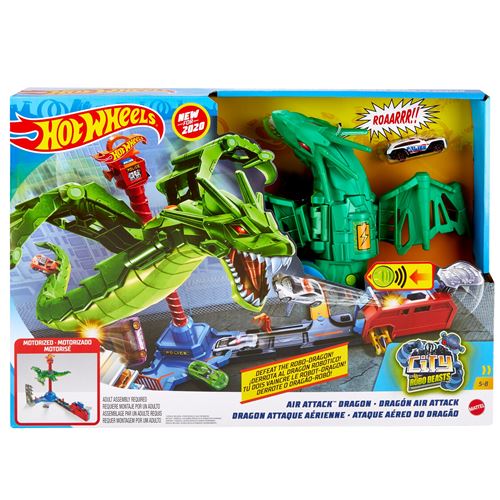 FNAC
31,43 €
26 janv. 2021
Les offres
3 offres
FNAC
Coffret Hot Wheels Attaque du Robot Dragon
Fnac.com : Coffret Hot Wheels Attaque du Robot Dragon - Voiture. Achat et vente de jouets, jeux de société, produits de puériculture. Découvrez les Univers Playmobil, Légo, FisherPrice, Vtech ainsi que les grandes marques de puériculture : Chicco, Bébé Confort, Mac Laren, Babybjörn...
31,43 €
26 janv. 2021
CDISCOUNT
HOT WHEELS City Attaque du Robot Dragon Motorisé avec Commissariat de Police 45 cm de haut - 1 véhicule et 1 lanceur inclus
Playset Dragon avec un commissariat de police de 45 cm de haut, pris au piège par l'énorme dragon motorisé. Un véhicule et un lanceur mécanique inclus pour défier cette créature.
39,71 €
26 janv. 2021
ZAVVI
Hot Wheels City Air Attack Dragon Playset
Kids are challenged to save Hot Wheels City in this dramatic motorized playset with an awesome Air Attack Robo Dragon nemesis that brings out the hero within and revs up their storytelling skills. The Robo Dragon is activated with a button on the top of the tower. Once the massive beast starts flying , its intent on breaking the bad guys out of the jail and taking over the Police Station! Kids set up their Hot Wheels 1:64 scale vehicles and launch them into the air aiming for the back of the gigantic Robo Dragon to land between its wings. But hurry up, this is a real race against time! If the car hits the right spot, the Robo Dragon will be knocked down and the city is safe. As the creature rises and descends there are amazing sound FX combinations for a new experience every time. Kids can also put a vehicle in the mouth of the Robo Dragon or on its tail to make the battle even more spectacular. The set includes one Hot Wheels 1:64 scale car and connections for adding to other sets and ramps (sold separately). This impressive set makes a great gift for kids 3-6 years old.
48,49 €
26 janv. 2021