Meilleur offre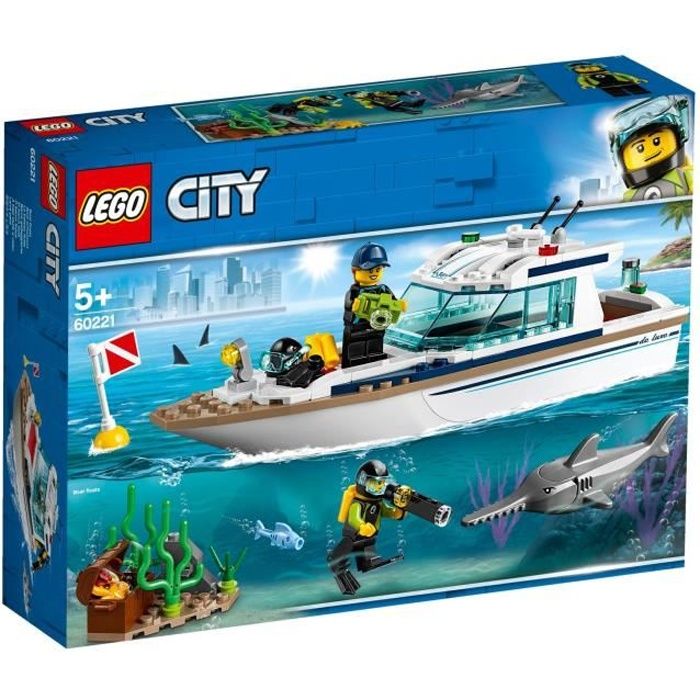 CDISCOUNT
19,32 €
3 févr. 2021
Les offres
4 offres
CDISCOUNT
LEGO® City 60221 Le yacht de plongée
LEGO 60221 Le yacht de plongée - Matière : plastique - Garçon - A partir de 5 ans - Livré à l'unité.
19,32 €
3 févr. 2021
ZAVVI
LEGO City: Diving Yacht Deep Sea Boat Set (60221)
Release the dive buoy and get ready for an adventure! Strap on your gear and drop over the side of the Diving Yacht into the deep blue waters of the LEGO® City sea. Turn on your video camera and see what you can find. Ooh, is that a treasure chest? Look out for the swordfish! When you're done, head back to the boat for some sun! Features: Includes 2 LEGO® City diver minifigures, plus swordfish and crab figures. Features a large leisure diving yacht boat toy with sun deck, removable roof, turning searchlight and storage/sleeping space inside. Also includes a sea floor scene with an opening treasure chest. Accessory elements include diving gear, a camera, gem element, video camera, oxygen mask, fish figure and a buildable buoy. Remove the yacht's roof to access the lower deck and take a nap. Open the treasure chest to discover the gem element and crab. Swim back to the surface and head to the yacht with your treasure! Diving yacht toy boat measures over 3" (8cm) high, 9" (23cm) long and 2" (6cm) wide. Sea floor scene measures over 1" (5cm) high, 1" (4cm) wide and 1" (4cm) deep.
20,99 €
3 févr. 2021
DARTY
Lego Lego Lego 60221 city - le yacht de plongée
22,34 €
3 févr. 2021
FNAC
LEGO® City 60221 Le yacht de plongée
Fnac.com : LEGO® City 60221 Le yacht de plongée - Lego. Achat et vente de jouets, jeux de société, produits de puériculture. Découvrez les Univers Playmobil, Légo, FisherPrice, Vtech ainsi que les grandes marques de puériculture : Chicco, Bébé Confort, Mac Laren, Babybjörn...
24,45 €
3 févr. 2021