Meilleur offre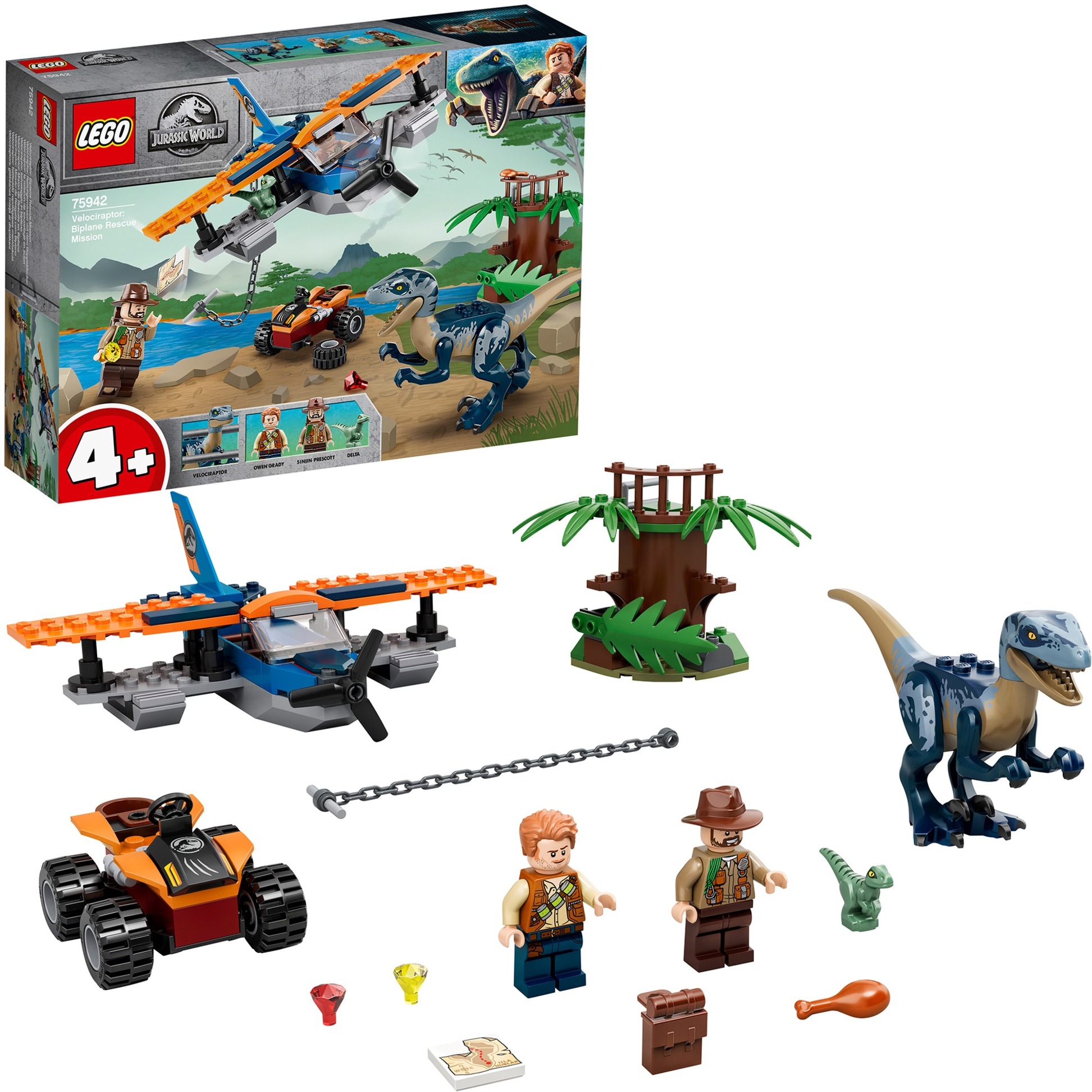 ALTERNATE
23,79 €
3 févr. 2021
Les offres
5 offres
ALTERNATE
Jurassic World Vélociraptor : la mission de sauvetage en avion​ - 75942, Jouets de construction
Alerte ! Sinjin Prescott s'est approché trop près d'un nid de raptor et s'est fait attaquer ! Il s'enfuit dans la jungle à bord de son véhicule tout-terrain, mais le vélociraptor en colère le rattrape. Vole à son secours avec l'avion d'Owen Grady. Fais descendre la chaîne pour que Sinjin puisse l'attraper et hisse-le en sécurité aussi vite que possible ! Puis aide le vélociraptor à prendre soin de son bébé, Delta, et de son œuf de dinosaure en toute tranquillité.
23,79 €
3 févr. 2021
ZAVVI
LEGO Jurassic World: Velociraptor Biplane Rescue Mission? (75942)
Your little adventurer can role-play as Owen Grady flying to rescue Sinjin Prescott with this LEGO Jurassic World Velociraptor: Biplane Rescue Mission (75942) dinosaur toy playset. This set has a posable Velociraptor and Delta baby raptor figure, treetop observation outpost with a dinosaur nest, and an off-roader vehicle, plus fun accessories to inspire creative play. The included simple guide to build and play will help any youngster grow their confidence as they learn to build with LEGO bricks. LEGO 4+ building toys make great gifts for preschool kids to introduce them to a wide universe of their favourite movie and TV characters and everyday heroes. They are specially designed with Starter Brick bases so even first-time builders can experience the pride of constructing buildings, vehicles and more, all on their own. The biplane toy measures over 2" (6cm) high, 7" (18cm) long and 6" (16cm) wide. Contains 101 pieces. Features: Playset for preschool kids, featuring a bi- plane toy, off-roader, 2 dinosaur raptor toys, treetop observation outpost and accessories Includes a Velociraptor figure with posable legs and jaws, and a dino tree nest for Delta, the Velociraptor's baby dinosaur toy figure The easy-to-build toy plane features a minifigure cockpit and a chain element for rescue missions to lift up Sinjin from his off-roader! The plane toy has a Starter Brick chassis to make building easier and illustrated instructions so kids aged 4+ can build with confidence Includes 2 LEGO minifigures: Owen Grady and Sinjin Prescott, plus accessory elements such as a treasure map, dinosaur egg and 2 diamonds Age: 4+ Number of Pieces: 101
25,99 €
3 févr. 2021
FNAC
LEGO® Jurassic World™ 75942 Vélociraptor : la mission de sauvetage en avion
Fnac.com : LEGO® Jurassic World™ 75942 Vélociraptor : la mission de sauvetage en avion - Lego. Achat et vente de jouets, jeux de société, produits de puériculture. Découvrez les Univers Playmobil, Légo, FisherPrice, Vtech ainsi que les grandes marques de puériculture : Chicco, Bébé Confort, Mac Laren, Babybjörn...
36,68 €
3 févr. 2021
DARTY
Lego Lego 75942 velociraptor : la mission de sauvetage en avion jurassic world
36,89 €
3 févr. 2021
CDISCOUNT
LEGO® Jurassic World™ 75942 Vélociraptor : la mission de sauvetage en avion
Les petits aventuriers peuvent inventer des histoires où Owen Grady vole au secours de Sinjin Prescott avec le set LEGO® Jurassic World Vélociraptor : la mission de sauvetage en avion (75942), sur le thème des dinosaures. Idéal pour les enfants d'âge préscolaire, l'avion facile à construire est doté d'un cockpit pouvant accueillir une figurine, ainsi que d'une chaîne pour hisser Sinjin.
50,46 €
3 févr. 2021