Meilleur offre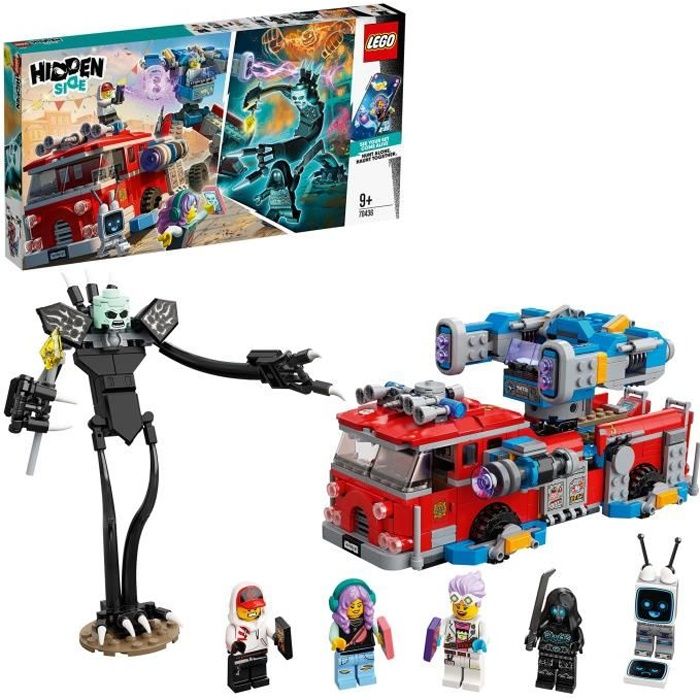 CDISCOUNT
58,19 €
3 févr. 2021
Les offres
4 offres
CDISCOUNT
LEGO® Hidden Side 70436 Le camion de pompiers Phantom 3000
Bienvenue dans Hidden Side, où s'unissent les mondes physique et numérique. Le set de jeu LEGO® Hidden Side Le camion de pompiers Phantom 3000 (70436) combine un camion de pompiers à construire avec une technologie d'application avancée, pour une incroyable expérience de jeu solo ou multijoueur en réalité augmentée.
58,19 €
3 févr. 2021
ZAVVI
LEGO Hidden Side: Phantom Fire Truck 3000 (70436)
Welcome to the LEGO Hidden Side, where physical and digital worlds merge. This LEGO Hidden Side Phantom Fire Engine 3000 (70436) playset combines a buildable toy fire engine with advanced app technology for an incredible single or multiplayer augmented reality (AR) game experience, where players use the LEGO model to trigger events in the app. The Phantom Fire Engine 3000 toy reveals a new digital world of ghost adventures when scanned via a smart device equipped with the free LEGO Hidden Side AR Games App for iPhone/Android. Kids can explore, hunt and capture ghosts for later use in the game, solve mysteries and battle boss ghost Blaze M. Barr. Alternatively, pause the app and use the fire engine toy full of exciting features, including mecha robot, the strange Harbinger figure and 5 minifigures for hands-on play. The set also looks awesome on display. This mixed-reality, ghostly experience is constantly enhanced through new content, ghosts and special events. The app is compatible with selected iOS/Android/mobile devices – check compatibility at lego.com/devicecheck The LEGO Hidden Side Phantom Fire Truck 3000 (70436) model measures over 4 (11cm) high, 9 (23cm) long and 4 (11cm) wide. Features digitally interactive LEGO Hidden Side fire truck model with a transformable mech robot, plus a Nehmaar Reem The Harbinger figure Kids can build the set, scan it and catch the ghosts on their tablet/mobile phones (not included) for the full, immersive experience The LEGO fire engine transforms when viewed through the LEGO AR app, where kids can expand their ghost collection in a haunted digital world With Jack, Parker, J.B., TeeVee and Shadow-Walker minifigures, kids can compete with friends in action-packed real and digital worlds The experience has an extended multiplayer option; compatible with 180+ iOS and Android devices – check product description for details Number of Pieces: 760 Age: 9+
68,99 €
3 févr. 2021
FNAC
LEGO® Hidden Side™ 70436 Le camion de pompiers Phantom 3000
Fnac.com : LEGO® Hidden Side™ 70436 Le camion de pompiers Phantom 3000 - Lego. Achat et vente de jouets, jeux de société, produits de puériculture. Découvrez les Univers Playmobil, Légo, FisherPrice, Vtech ainsi que les grandes marques de puériculture : Chicco, Bébé Confort, Mac Laren, Babybjörn...
69,95 €
3 févr. 2021
DARTY
Lego Lego 70436 le camion de pompiers phantom 3000 hidden side
76,58 €
3 févr. 2021