Meilleur offre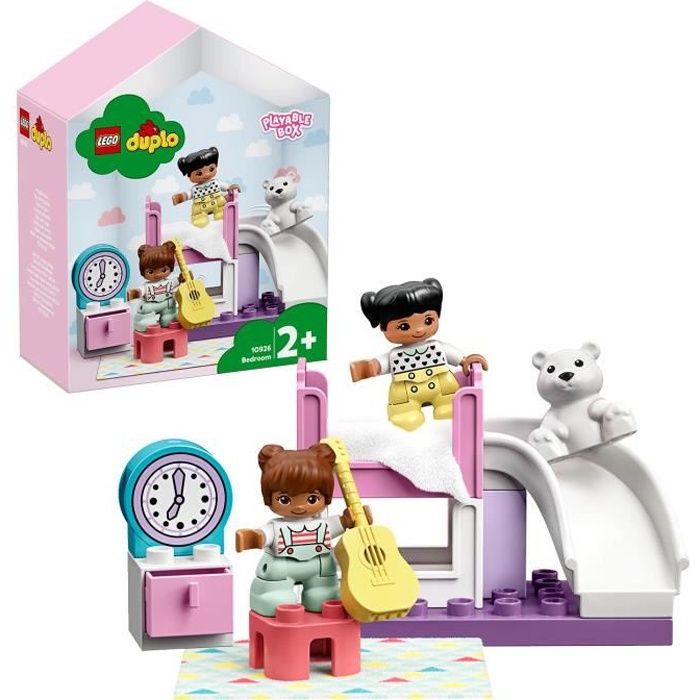 CDISCOUNT
12,33 €
3 févr. 2021
Les offres
5 offres
CDISCOUNT
LEGO® DUPLO® 10926 La chambre
10926 La chambre LEGO(r) DUPLO(r) Ma ville
12,33 €
3 févr. 2021
ALTERNATE
DUPLO La chambre - 10926, Jouets de construction
Les chambres ne servent pas seulement à dormir, n'est-ce pas ? Avec ce set de jeu très amusant, les activités ne s',arrêtent jamais ! Proposez à votre enfant de rejoindre les 2 filles qui passent une soirée pyjama dans leurs lits superposés. Avec un gros ours en peluche à câliner, une guitare pour accompagner les petits chanteurs et un toboggan pour glisser depuis le lit supérieur ! Lorsque l',horloge indique qu',il est temps de dormir, les enfants peuvent mettre les filles au lit, puis les réveiller au petit matin pour continuer à s'amuser.
12,49 €
3 févr. 2021
ZAVVI
LEGO DUPLO Town: Bedroom (10926)
Bedrooms are not just for sleeping, right? With this fun-packed playset, the activities never stop! Join 2 girl figures at their bunk-bed sleepover. There's a big teddy bear to cuddle, a guitar to sing along to and the top bunk has its own slide! When the clock shows it's time for sleep, put the girls to bed, then – time to wake up! – the role-play fun continues in the morning. The house-shaped box containing this playset transforms into a fun-packed bedroom, filled with colourful toys and cool pretend-play figures for toddlers to share endless imaginative fun with. This educational building toy for toddlers includes 2 contemporary-looking girl figures plus a toy guitar, alarm clock and a cuddly teddy bear – even the house-shaped box is great for play and storage. Toddlers build fine motor skills and role-play imaginative stories as they join 2 young girl figures for pretend sleepover play in the LEGO® DUPLO® Bedroom. Will the fun activities stop when it's time for bed? Toddlers build fine motor skills and role-play imaginative stories as they join 2 girl figures for pretend play in the LEGO® DUPLO® Bedroom. For extra fun, combine this set with LEGO DUPLO Town Playroom (10925). If you want a learning toy for young kids, this playset has cute characters, colourful, easy-to-handle bricks and endless play possibilities – making it a great educational building toy for toddlers aged 2 years and over. The bunk-beds with slide measure over 4" (11cm) high, 5" (13cm) wide and 2" (6cm) deep. The house-shaped box can be used to store all the bricks and pieces, and lets adults take the imaginative play wherever kids go. This playset is battery-free. Hands-on toys boost kids' creative, imaginative and practical skills. It gives them the satisfaction of making fun things happen 'by myself' – and it means the fun never ends. The play begins immediately. Just open the house-shaped box and go! For further learning fun, check out LEGO® DUPLO® Lullabies and other DUPLO songs at LEGO.com/DUPLO/Songs. LEGO® DUPLO® Town toys put educational, imaginative, open-ended play in the hands of preschoolers and toddlers. These ingenious DUPLO starter sets combine key developmental benefits with fun toys that kids love. Meeting the highest industry standards, LEGO® DUPLO® sets are easy for little fingers to pick up, place and pull apart – and it's been that way since 1969. At The LEGO Gorup, we drop, squash, twist, heat, bite, bend, scratch and stretch LEGO® DUPLO® bricks and pieces to make sure every one of our kids' construction toys meets the highest global safety and quality standards. Age: 2+ Number of Pieces: 16
14,99 €
3 févr. 2021
FNAC
LEGO® DUPLO® Town 10926 La chambre
Fnac.com : LEGO® DUPLO® Town 10926 La chambre - Lego. Achat et vente de jouets, jeux de société, produits de puériculture. Découvrez les Univers Playmobil, Légo, FisherPrice, Vtech ainsi que les grandes marques de puériculture : Chicco, Bébé Confort, Mac Laren, Babybjörn...
20,01 €
3 févr. 2021
DARTY
Autres jeux de construction Lego 10926 la chambre lego duplo ma ville
27,02 €
3 févr. 2021