Meilleur offre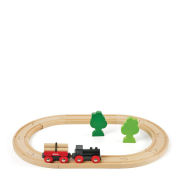 ZAVVI
19,49 €
3 févr. 2021
Les offres
3 offres
ZAVVI
Brio Little Forest Train Set
There is plenty to do with the Little Forest train starter set. There are logs to log and load or if you would rather just drive around the trees for fun you can do that too. Helps develop hand-eye coordination and imaginative play. Includes 10x Pieces of track, 1x Engine, 1x Cargo wagon, 1x Cargo wagon tray, 3x Cargo logs, 2x Trees. Track layout measures 40 x 25.6cm. Suitable for ages 3 Years and up. Manufactured to BRIO's high standards and from FSC Certified wood. Each set is fully compatible with other BRIO sets, tracks and trains. BRIO products are made from very high quality plastic and Beech wood from sustainable sources. The Trains, Wagons, Carriages, and Road Vehicles all feature the classic BRIO magnetic couplings allowing for easy connection to each other.
19,49 €
3 févr. 2021
FNAC
Brio 33042 Petit Circuit De Train En Foret
Fnac.com : Brio 33042 Petit Circuit De Train En Foret - Circuit ou accessoire train en bois. Achat et vente de jouets, jeux de société, produits de puériculture. Découvrez les Univers Playmobil, Légo, FisherPrice, Vtech ainsi que les grandes marques de puériculture : Chicco, Bébé Confort, Mac Laren, Babybjörn...
21,98 €
3 févr. 2021
DARTY
Trains Brio Train brio : circuit : en forêt
35,17 €
3 févr. 2021