Meilleur offre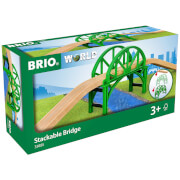 ZAVVI
18,49 €
3 févr. 2021
Les offres
3 offres
ZAVVI
Brio Stackable Bridge
Inspired by railroad bridges of old times, the Stackable Bridge has a unique look and feel. Build it as high as you like to add another layer to your BRIO layout. Whether on its own or as an addition, your BRIO World wooden railway will never look the same. includes 3x Track Pieces, 1x Bridge. The item measures 57.9 x 14.9 x 10.9cm. Suitable for ages 3 years and up. Manufactured to BRIO's high standards and from FSC Certified wood. Each set is fully compatible with other BRIO sets, tracks and trains. BRIO products are made from very high quality plastic and Beech wood from sustainable sources. The Trains, Wagons, Carriages, and Road Vehicles all feature the classic BRIO magnetic couplings allowing for easy connection to each other.
18,49 €
3 févr. 2021
FNAC
Pont empilable avec rails Brio World
Fnac.com : Pont empilable avec rails Brio World - Circuit train. Achat et vente de jouets, jeux de société, produits de puériculture. Découvrez les Univers Playmobil, Légo, FisherPrice, Vtech ainsi que les grandes marques de puériculture : Chicco, Bébé Confort, Mac Laren, Babybjörn...
25,99 €
3 févr. 2021
DARTY
Trains Brio 33885 pont empilable avec rails
26,94 €
3 févr. 2021