Meilleur offre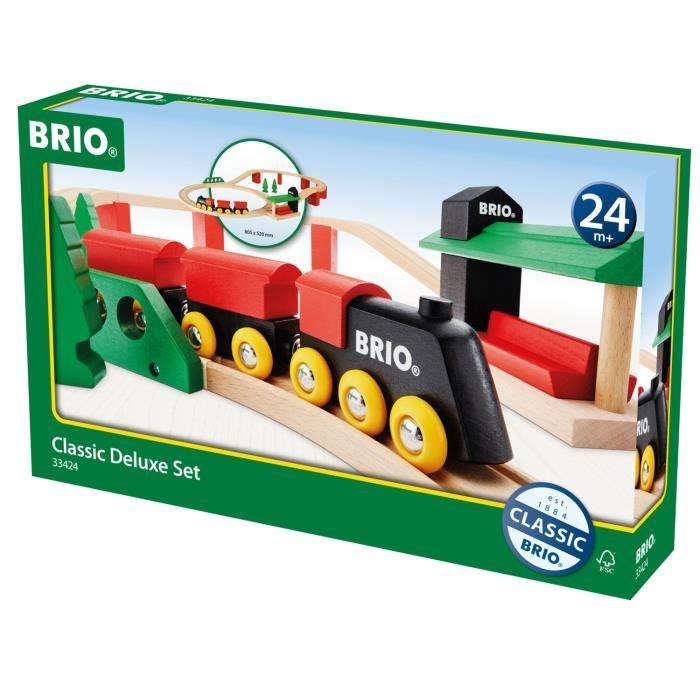 CDISCOUNT
64,56 €
3 févr. 2021
Les offres
4 offres
CDISCOUNT
BRIO - 33424 - Circuit Tradition Deluxe - Pour circuit en bois
Ce modèle classique en bois monte la colline et s'arrête en gare - Mixte - à partir de 2 ans
64,56 €
3 févr. 2021
ZAVVI
Brio Classic Deluxe Set
Just like a real train, this classic wooden model train pushes up the hill and stops at a station. And isn't it magical how the wagons are connected to each other? Discover the enchanting train adventure that never ends! Includes 5x Supports, 1x Engine, 2x Wagons, 1x Station, 2x Trees, 12x Pieces of Track. Track layout measures 80.6 x 51.8cm. Suitable for ages 24 Months and up. Manufactured to BRIO's high standards and from FSC Certified wood. Each set is fully compatible with other BRIO sets, tracks and trains. BRIO products are made from very high quality plastic and Beech wood from sustainable sources. The Trains, Wagons, Carriages, and Road Vehicles all feature the classic BRIO magnetic couplings allowing for easy connection to each other.
80,49 €
3 févr. 2021
FNAC
Brio 33424 Circuit Tradition Deluxe
Fnac.com : Brio 33424 Circuit Tradition Deluxe - Circuit train. Achat et vente de jouets, jeux de société, produits de puériculture. Découvrez les Univers Playmobil, Légo, FisherPrice, Vtech ainsi que les grandes marques de puériculture : Chicco, Bébé Confort, Mac Laren, Babybjörn...
95,91 €
3 févr. 2021
DARTY
Trains Brio Train brio : circuit tradition deluxe
110,70 €
3 févr. 2021