Meilleur offre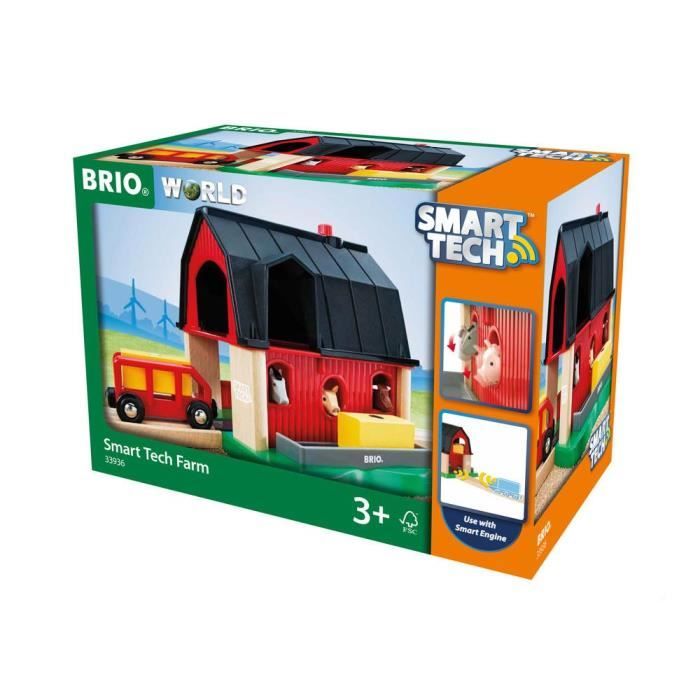 CDISCOUNT
36,59 €
3 févr. 2021
Les offres
4 offres
CDISCOUNT
BRIO World - Smart Tech - 33936 - Ferme Intelligente
Grâce à la technologie Smart Tech et à ses fonctions facilement compréhensibles , au passage de la locomotive Smart Tech, les animaux de la ferme prennent vie - Avec des sons et des actions captivant créant de toutes nouvelles expériences de jeu, la campagne est plus fascinante que jamais
36,59 €
3 févr. 2021
FNAC
Ferme Brio World Smart Tech
Fnac.com : Ferme Brio World Smart Tech - Circuit train. Achat et vente de jouets, jeux de société, produits de puériculture. Découvrez les Univers Playmobil, Légo, FisherPrice, Vtech ainsi que les grandes marques de puériculture : Chicco, Bébé Confort, Mac Laren, Babybjörn...
44,99 €
3 févr. 2021
ZAVVI
Brio Smart Tech - Railway Farm Barn
Smart Tech is the new Train technology from BRIO! It's a big day out on the farm! While it has many things in common with other BRIO farms, this is distinctly different. Helped by Smart Tech and easy-to-understand functions, a passing train lets the farm animals come to life. With sounds and actions creating a whole new experience, the countryside is more exciting than ever. BRIO Smart Tech toys are preferably used with BRIO Smart Engine to make sounds and actions possible. Includes 1x Smart-Tech Barn, 1x Wagon, 2x Hay Bales. The item measures 16.2 x 15.6 x 15.9cm. Suitable for ages 3 Years and up. Manufactured to BRIO's high standards and from FSC Certified wood. Each set is fully compatible with other BRIO sets, tracks and trains. BRIO products are made from very high quality plastic and Beech wood from sustainable sources. The Trains, Wagons, Carriages, and Road Vehicles all feature the classic BRIO magnetic couplings allowing for easy connection to each other. Check out the rest of the Smart Tech range today!
45,99 €
3 févr. 2021
DARTY
Trains Brio Ferme brio world smart tech
52,09 €
3 févr. 2021