Meilleur offre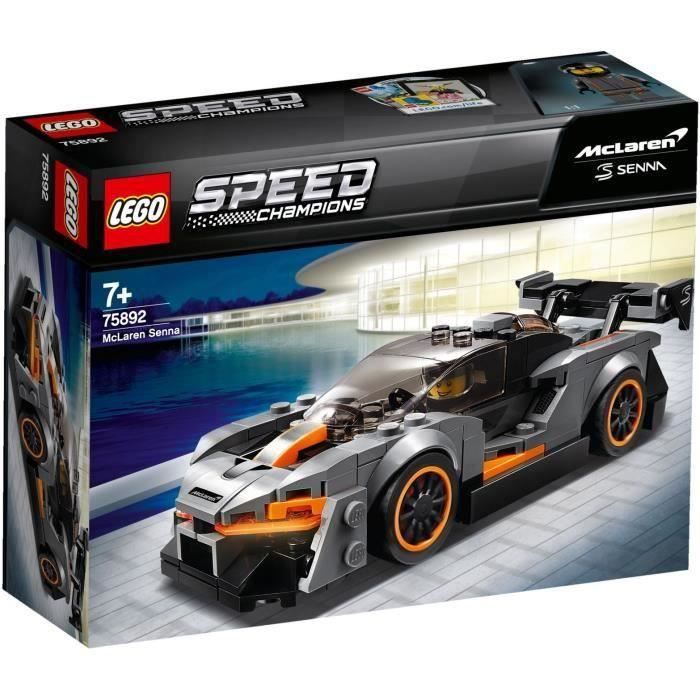 CDISCOUNT
12,99 €
3 févr. 2021
Les offres
5 offres
CDISCOUNT
LEGO® Speed Champions 75892 Mclaren Senna
12,99 €
3 févr. 2021
ALTERNATE
Speed Champions McLaren Senna - 75892, Jouets de construction
La McLaren Senna de LEGO Speed Champions 75892 defie l',impossible! Teste l'aérodynamisme de cette voiture de route ultra rapide dans le tunnel aérodynamique et change les jantes de la roue. Puis place le pilote dans le cockpit et montre tes compétences de pilote sur le circuit !
13,49 €
3 févr. 2021
ZAVVI
LEGO McLaren Senna Car Toy Collectible Model (75892)
Push the limits with the LEGO® Speed Champions 75892 McLaren Senna! Test the aerodynamics of this ultra-fast road car in the wind tunnel and change the wheel rims. Then place the racing driver in the cockpit and show off your driving skills on the track! Features: Includes a McLaren racing driver minifigure in a racing suit featuring the McLaren Senna and Pirelli logos. The race-ready, buildable McLaren Senna features a minifigure cockpit, removable windshield, wheels with rubber tyres and interchangeable rims, rear spoiler, translucent light-style elements, McLaren and Senna logo stickers and authentic design details. Remove the windshield to place the minifigure in the car. Also includes a buildable wind tunnel with a rotating fan. Accessory elements include the McLaren racing driver's helmet and a spanner. This car playset offers endless creative fun for car-loving kids. McLaren Senna toy car measures over 1" (4cm) high, 5" (15cm) long and 1" (5cm) wide. Wind tunnel measures over 1" (5cm) high, 2" (6cm) wide and 1" (4cm) deep.
14,99 €
3 févr. 2021
FNAC
LEGO® Speed Champions 75892 McLaren Senna
Fnac.com : LEGO® Speed Champions 75892 McLaren Senna - Lego. Achat et vente de jouets, jeux de société, produits de puériculture. Découvrez les Univers Playmobil, Légo, FisherPrice, Vtech ainsi que les grandes marques de puériculture : Chicco, Bébé Confort, Mac Laren, Babybjörn...
14,99 €
3 févr. 2021
DARTY
Lego Lego Lego 75892 speed champions - mclaren senna
16,16 €
3 févr. 2021