Meilleur offre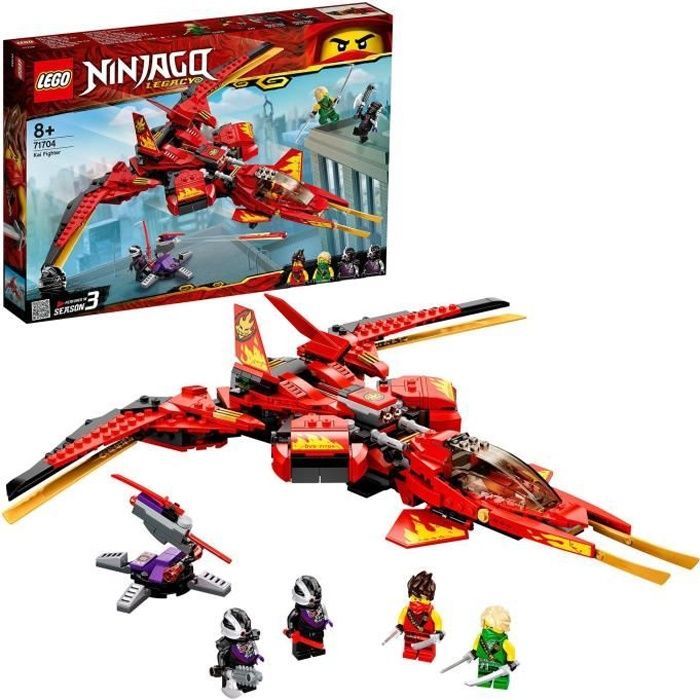 CDISCOUNT
31,99 €
3 févr. 2021
Les offres
5 offres
CDISCOUNT
LEGO® NINJAGO® 71704 Le superjet de Kai
LEGO® NINJAGO® 71704 Le superjet de Kai
31,99 €
3 févr. 2021
ALTERNATE
NINJAGO Le superjet de Kai - 71704, Jouets de construction
Envole-toi dans le ciel avec Kai et Lloyd à bord de ce superbe avion de combat ninja ! Revis les scènes culte de la saison 3 de la série télévisée NINJAGO, et aide ton héros ninja à vaincre les guerriers nindroïdes. Survole la nouvelle NINJAGO City et tire avec tes fusils à ressorts sur les nindroïdes au sol, mais prends garde à leurs tirs ! Saute dans le cockpit et prépare-toi à gagner la bataille !
33,99 €
3 févr. 2021
ZAVVI
LEGO Ninjago: Kai Fighter (71704)
Ninja fans who love creating iconic LEGO NINJAGO Legacy builds and have a passion for playing with fun toys and buildable figures will be enthralled by the Kai Fighter (71704) toy jet playset. This stunning building set for kids features 2 ninja and 2 Nindroid Warrior minifigures, plus a toy jet fighter to recreate ninja battles. Celebrate the famous history of NINJAGO by building this modern and upgraded action toy from season 3 of the TV series. Kids will enjoy the fun challenge of putting it together brick by brick before staging epic ninja battles between Kai and Lloyd and the Overlord's Nindroid Warriors. LEGO NINJAGO ninja toys offer youngsters a gateway into a world of fantasy fun where they can indulge in creative adventures as they role-play stories with NINJAGO action figures. Your little ninja will be captivated as they play with a range of action toys, including ninja jets, mechs, vehicles and dragons. The toy jet measures over 5" (13cm) high, 13" (34cm) long and 16" (43cm) wide. Kai's fighter toy jet from season 3 of the TV series features folding wings, an adjustable cockpit and 2 spring-loaded shooters Includes 4 LEGO NINJAGO minifigures: ninjas Lloyd and Kai and 2 Nindroid Warrior action figures with a shooter and scary weapons! Kids can move the jet's wings before taking off, launch missiles from the jet's spring-loaded shooters and fight battles from the cockpit Kids will be thrilled to build this action-packed, highly posable jet playset before enjoying hours of independent play or fun with friends Check out other LEGO Ninjago Legacy Storm set - Destiny's Bounty (71705), from Masters of Spinjitzu TV series 3 Number of Pieces: 513 Age: 8+
37,99 €
3 févr. 2021
FNAC
LEGO® NINJAGO® 71704 Le superjet de Kai
Fnac.com : LEGO® NINJAGO® 71704 Le superjet de Kai - Lego. Achat et vente de jouets, jeux de société, produits de puériculture. Découvrez les Univers Playmobil, Légo, FisherPrice, Vtech ainsi que les grandes marques de puériculture : Chicco, Bébé Confort, Mac Laren, Babybjörn...
39,99 €
3 févr. 2021
DARTY
Lego Lego 71704 le superjet de kai ninjago
44,75 €
3 févr. 2021