Meilleur offre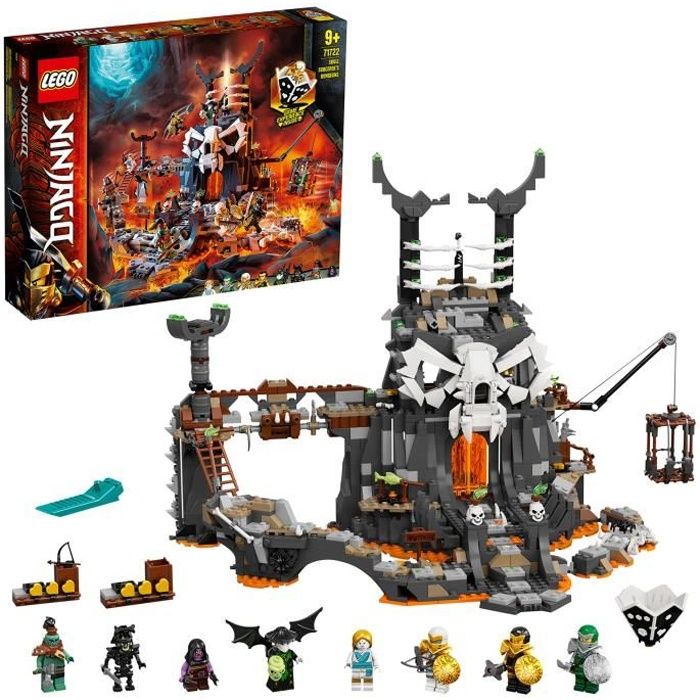 CDISCOUNT
75,59 €
3 févr. 2021
Les offres
5 offres
CDISCOUNT
LEGO® NINJAGO® 71722 Le donjon du Sorcier du Crâne
Le set LEGO® NINJAGO® Le donjon du Sorcier au Crâne (71722) déborde d'action et contient 8 figurines, dont les héros ninjas Cole, Zane et Lloyd. Le modèle de donjon permet aux enfants créatifs de rejouer pendant des heures les batailles à couper le souffle de la série télévisée.
75,59 €
3 févr. 2021
ALTERNATE
NINJAGO Le donjon du Sorcier au Crâne - 71722, Jouets de construction
Affronte le Sorcier au Crâne dans ses dangereux donjons aux côtés des héros Cole, Zane et Lloyd ! Méfie-toi des nombreux pièges des donjons et de l'armée de guerriers du mal : Murt, Ginkle et un guerrier éveillé. Tu dois les éviter pour pouvoir t'emparer de la lame des ombres de la délivrance et libérer un ninja de sa cellule de prison. Tu es le (la) seul(e) à pouvoir mener à bien cette mission !
85,90 €
3 févr. 2021
ZAVVI
LEGO Ninjago: Skull Sorcerer's Dungeons (71722)
Action-packed LEGO NINJAGO Skull Sorcerer's Dungeons (71722) playset contains 8 minifigures, including ninjas Hero Cole, Hero Zane and Hero Lloyd. The toy dungeons let creative kids enjoy countless hours re-enacting breathtaking battles from the TV series. This building set for kids also acts as a thrilling NINJAGO board game. Ninja fans use the dice spinner to plot their way through the dungeons, avoiding traps, lava, moving bridges and the Skull Sorcerer's warriors as they seek to grasp the Shadow Blade of Deliverance and free a ninja from prison. It can also be combined with other LEGO sets to create a giant board game. LEGO NINJAGO building toys for kids provide an escape to a fantasy world of non-stop action where they can fight with their ninja heroes against the forces of evil. NINJAGO fans will love indulging in role play with ninja weapons, buildable figures, cars, dragons and much more. The toy dungeons measure over 12" (31cm) high, 10" (27cm) long and 16" (43cm) wide. Contains 1,171 pieces. Features: Features a buildable, detailed, scary dungeon with prison cell and blowing traps, and a board game for kids to play with family and friends Help the ninjas save Hero Lloyd from his creepy prison cell and reveal the Blade of Deliverance behind the gates, but beware the skulls! Let kids plot their way around the dangers of both the daunting dungeon and the thrilling board game, taking turns after spinning the dice Includes 8 LEGO minifigures: Hero Cole, Hero Zane, Hero Lloyd, Princess Vania, Skull Sorcerer, Murt, Ginkle and an Awakened Warrior Check out other NINJAGO playable sets: Skull Sorcerer's Dragon 71721, Journey to the Skull Dungeons 71717 and Zane's Mino Creature 71719 Age: 9+ Number of Pieces: 1171
91,99 €
3 févr. 2021
DARTY
Lego Lego 71722 le donjon du sorcier du crane ninjago
109,00 €
3 févr. 2021
FNAC
LEGO® NINJAGO® 71722 Le donjon du Sorcier au Crâne
Fnac.com : LEGO® NINJAGO® 71722 Le donjon du Sorcier au Crâne - Lego. Achat et vente de jouets, jeux de société, produits de puériculture. Découvrez les Univers Playmobil, Légo, FisherPrice, Vtech ainsi que les grandes marques de puériculture : Chicco, Bébé Confort, Mac Laren, Babybjörn...
109,89 €
3 févr. 2021