Meilleur offre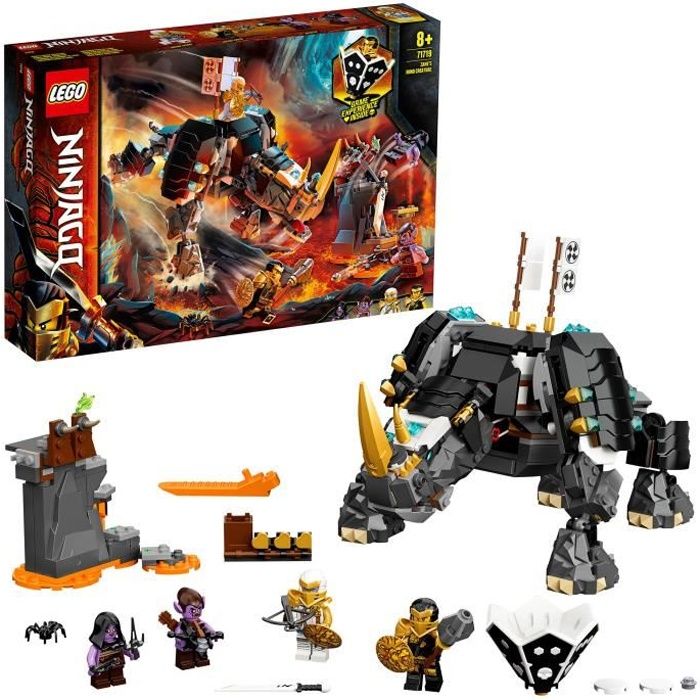 CDISCOUNT
34,90 €
3 févr. 2021
Les offres
5 offres
CDISCOUNT
LEGO® NINJAGO® 71719 L'animal de combat de Zane
LEGO® NINJAGO® 71719 L'animal de combat de Zane
34,90 €
3 févr. 2021
ALTERNATE
NINJAGO L'animal de combat de Zane - 71719, Jouets de construction
Unis tes forces à celles des héros Cole et Zane qui quittent les donjons de Shintaro pour rejoindre la bataille sur le dos de leur puissant animal de combat. Tire sur les casse-pieds de Ginkle et Gleck avec le lance-disques de l'animal de combat. C'est un combat pour leur survie qu'ils doivent à tout prix gagner ! Tes braves héros ninjas peuvent-ils triompher et s'échapper de ce monde obscur et effrayant ?
40,29 €
3 févr. 2021
ZAVVI
LEGO Ninjago: Zane's Mino Creature (71719)
LEGO NINJAGO sets allow imaginative youngsters to escape to a mystical world where they can role-play adventures as their ninja heroes, taking on the forces of evil. Kids will have hours of enjoyment playing with these fun toys, which include mechs, dragons, ships, jets and lots more. The LEGO NINJAGO Mino Creature ram figure measures over 7" (18cm) high, 10" (26cm) long and 18" (7cm) wide. Contains 616 pieces. Kids will love building this LEGO NINJAGO Zane's Mino Creature (71719) set, featuring 4 buildable minifigures, for creative fun on their own or with friends. They can dive into this thrilling world of fantasy with Hero Cole and Hero Zane and help them escape the terrifying Dungeons of Shintaro. This NINJAGO Zane set doubles as a LEGO board game, featuring a ninja dice spinner and a fort with a special trap. Kids can spin the dice and take part in the game, with the aim of avoiding the trap, getting past their enemies and grasping the prized Ivory Blade of Deliverance. It can also be combined with other LEGO sets to create a giant board game. Features: Features a toy fort and Mino creature to recreate scenes from the NINJAGO TV series, plus an exciting and action-packed board game The fort has a special trap with catapult function, and the Mino has a posable head and a disc shooter to fire at the pesky Ginkle and Gleck Kids can spin the dice to take part in the board game, avoid traps, get past their enemies and grasp the prized Ivory Blade of Deliverance Includes 4 minifigures: Hero Zane and Hero Cole ninjas and Ginkle and Gleck Geckles, plus the Ivory Blade of Deliverance sword Check out other NINJAGO sets: Skull Sorcerer's Dragon 71721, Skull Sorcerer's Dungeons 71722 and Journey to the Skull Dungeons 71717 Age: Number of Pieces: 616
42,49 €
3 févr. 2021
FNAC
LEGO® NINJAGO® 71719 L'animal de combat de Zane
Fnac.com : LEGO® NINJAGO® 71719 L'animal de combat de Zane - Lego. Achat et vente de jouets, jeux de société, produits de puériculture. Découvrez les Univers Playmobil, Légo, FisherPrice, Vtech ainsi que les grandes marques de puériculture : Chicco, Bébé Confort, Mac Laren, Babybjörn...
49,99 €
3 févr. 2021
DARTY
Lego Lego 71719 l animal de combat de zane ninjago
55,88 €
3 févr. 2021