Meilleur offre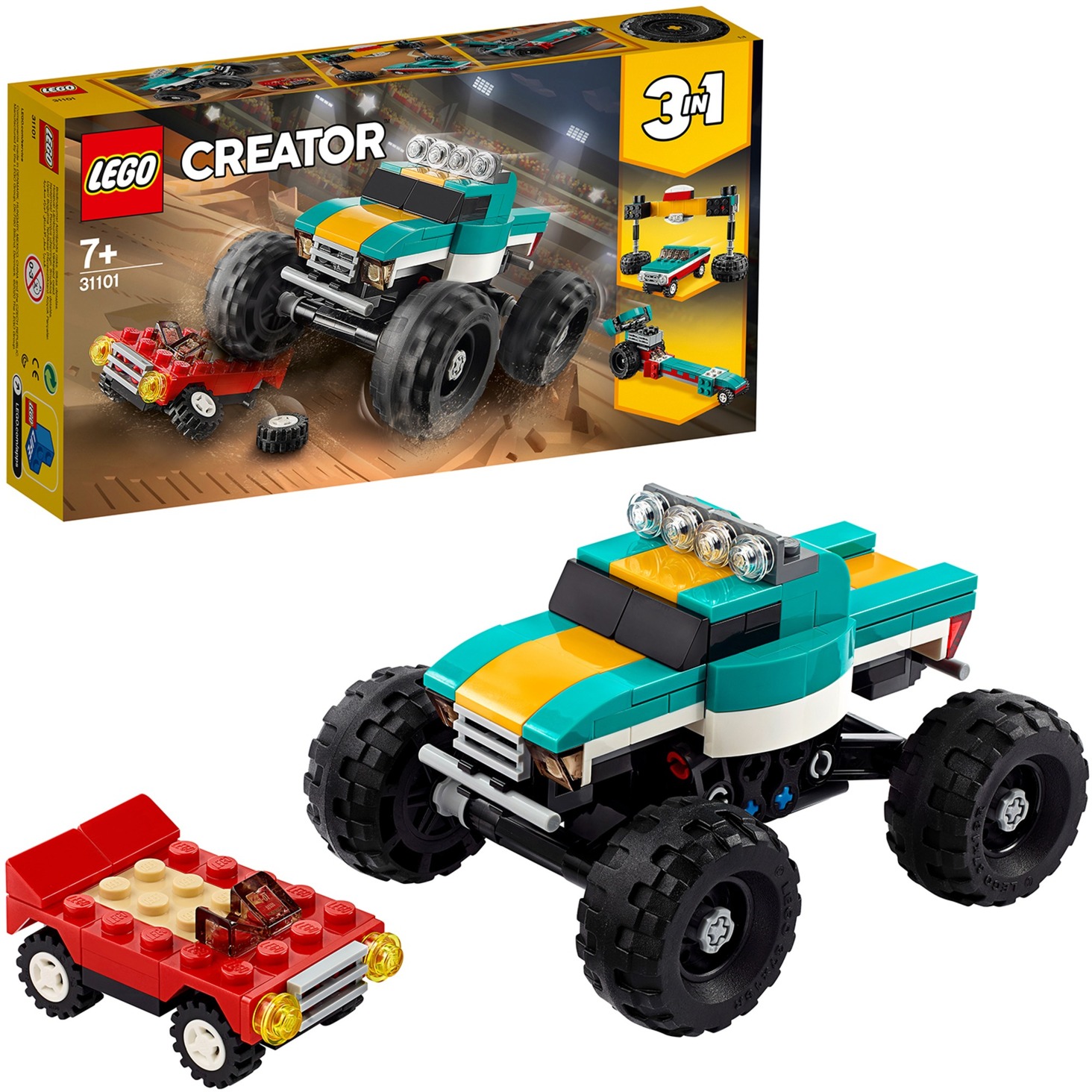 ALTERNATE
11,49 €
3 févr. 2021
Les offres
5 offres
ALTERNATE
Creator Le Monster Truck - 31101, Jouets de construction
Prépare-toi à écraser les voitures avec ce Monster Truck ! Fais un tour dans l',arène pour tester la suspension, puis mets la voiture à démolir en place et lance le spectacle ! Après avoir réalisé les cascades les plus incroyables, transforme le Monster Truck en voiture de course musclée avec une ligne d',arrivée, puis en dragster pour établir un record... ou bien libère ta créativité et construis quelque chose de nouveau. Vas-tu réussir à gérer ces puissants véhicules 3-en-1 ?
11,49 €
3 févr. 2021
CDISCOUNT
LEGO® Creator 31101 Le Monster Truck
31101 Le Monster Truck LEGO(r) Creator
12,46 €
3 févr. 2021
ZAVVI
LEGO Creator: Monster Truck (31101)
Kids get 3 different build-and-play experiences with this LEGO Creator 3in1 set. They can build a monster truck, rebuild it into a muscle car with a finish line, a dragster, or create recognisable models from real life or something from their imagination. LEGO Creator 3in1 sets offer kids models that are detailed and realistic and encourage imaginative play. The models offer endless building and play opportunities while helping to spark creativity in children of all ages. The monster truck toy measures over 2" (6cm) high, 3" (10cm) long and 3" (8cm) wide. Contains 163 Pieces. Inspire kids' passion for massive vehicles with the exciting LEGO Creator 3in1 Monster Truck (31101) buildable toy. They will love powering over any obstacles with this green and yellow monster truck, featuring a working suspension and a small car to roll over again and again. Features: Spark creative role play with 3 models in 1 and open-ended vehicle play! Stretch building skills with endless rebuilding possibilities and adventures. This set can be played with solo or combined with other models for bigger thrills! Treat Monster Truck fans with this fun 3in1 set to inspire imaginative play. Small, powerful, ready for action and portable enough to go wherever kids go. Powered by imagination, with no need for batteries. Endless hours of play! Unlimited play and fun begin with the first brick connections. Vehicles with working suspension and accessories help fuel building skills. LEGO® bricks meet every quality standard, so they work easily every time. LEGO® bricks meets the highest global safety and quality standards. Number of Pieces: 163 Age: 7+
13,99 €
3 févr. 2021
FNAC
LEGO® Creator 31101 Le Monster Truck
Fnac.com : LEGO® Creator 31101 Le Monster Truck - Lego. Achat et vente de jouets, jeux de société, produits de puériculture. Découvrez les Univers Playmobil, Légo, FisherPrice, Vtech ainsi que les grandes marques de puériculture : Chicco, Bébé Confort, Mac Laren, Babybjörn...
14,99 €
3 févr. 2021
DARTY
Lego Lego 31101 le monster truck lego creator
19,78 €
3 févr. 2021