Meilleur offre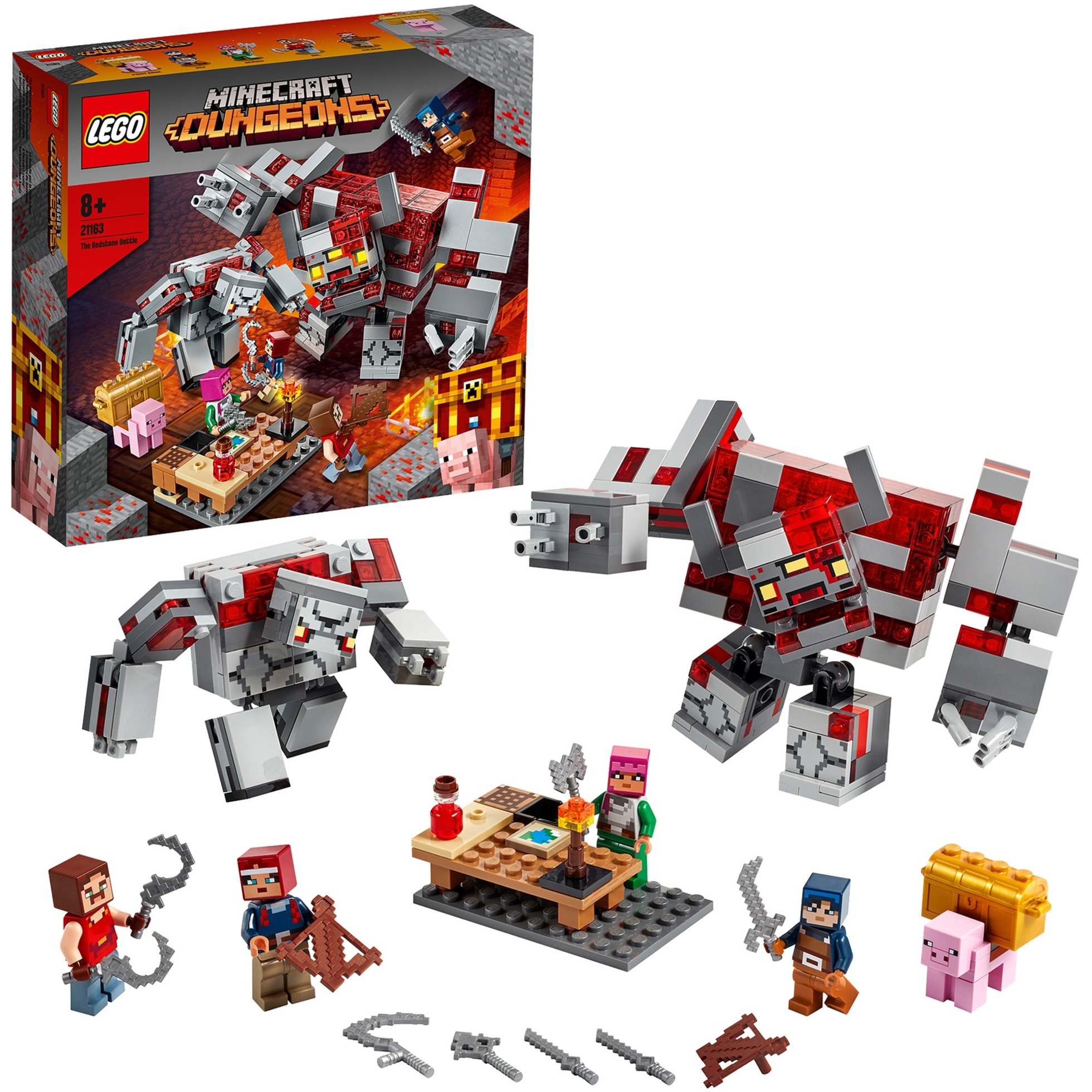 ALTERNATE
44,29 €
3 févr. 2021
Les offres
5 offres
ALTERNATE
Minecraft La bataille de la Pierre rouge - 21163, Jouets de construction
Le terrible monstre en Pierre rouge et un golem en Pierre rouge ont été lâchés sur la Surface ! Saisis ta hache et prépare-toi pour le combat. Heureusement, Hex, Hedwig, Hal et Valorie se joignent à la bataille avec un cochon tirelire contenant un fabuleux butin !
44,29 €
3 févr. 2021
ZAVVI
LEGO Minecraft: The Redstone Battle (21163)
Bring all the fun of the online Minecraft Dungeons game into the real world with LEGO Minecraft The Redstone Battle (21163). With posable giants, favourite characters and fun battles, this buildable toy for kids 8+ years old gives Minecraft players an action-packed setting for endless hands-on adventures. Kids create Minecraft action of their own as they take on the giant redstone monstrosity and the redstone golem. They can use cool weapons to role-play battles and adjust the posable redstone monsters to create ever-changing scenes. There are also lots of fun accessories, such as the loot contained inside the Minecraft piggy bank. Looking for the best birthday gift or merchandise toy for a Minecraft fan? LEGO Minecraft playsets put the characters, the construction, the mini toys and the battle action from the online game right into kids' hands. Bring Minecraft action to life with LEGO brick building toys! The posable redstone monstrosity toy measures over (16cm) tall. Contains 504 pieces. Features: Features a fearsome Redstone Monstrosity and a Redstone Golem that have been unleashed on the Overworld, plus 4 Minecraft heroes and a piggy Players create their own hands-on Dungeons adventures with popular characters & posable giants, bringing the online game into the real world Includes 4 Minecraft heroes: Hex, Hedwig, Hal and Valorie – along with a piggy bank that's bursting with loot, plus lots of cool weapons There's endless action and excitement when kids join Minecraft heroes to overcome the Arch-Illager's minions from Minecraft Dungeons game This buildable toy and hands-on play boost kids' dexterity, creativity and problem-solving skills, whether playing solo or as a group Age: 8+ Number of Pieces: 504
45,99 €
3 févr. 2021
CDISCOUNT
LEGO® Minecraft™ 21163 La bataille de la Pierre rouge
LEGO® Minecraft™ 21163 La bataille de la Pierre rouge - Toute la passion du jeu en ligne Minecraft™ Dungeons débarque dans la vie réelle.
46,90 €
3 févr. 2021
DARTY
Lego Lego 21163 la bataille de la pierre rouge minecraft
54,95 €
3 févr. 2021
FNAC
LEGO® Minecraft™ 21163 La bataille de la Pierre rouge
Fnac.com : LEGO® Minecraft™ 21163 La bataille de la Pierre rouge - Lego. Achat et vente de jouets, jeux de société, produits de puériculture. Découvrez les Univers Playmobil, Légo, FisherPrice, Vtech ainsi que les grandes marques de puériculture : Chicco, Bébé Confort, Mac Laren, Babybjörn...
54,99 €
3 févr. 2021