Meilleur offre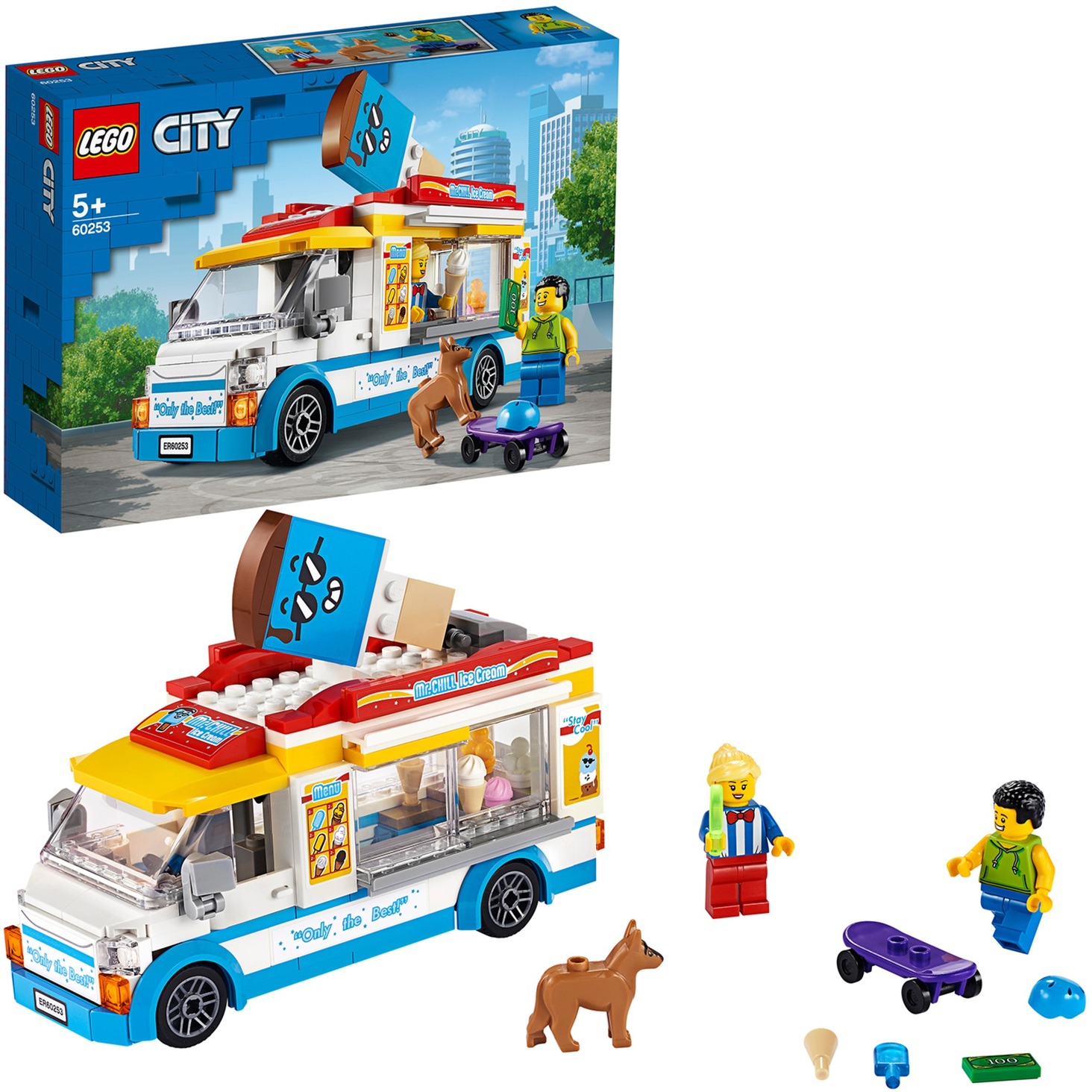 ALTERNATE
15,49 €
3 févr. 2021
Les offres
5 offres
ALTERNATE
City Le camion du marchand de glace - 60253, Jouets de construction
Dring, dring ! Délicieux ! Le camion du marchand de glace de LEGO City est arrivé ! Fais un dernier tour sur ton fascinant skateboard, puis soulève ta planche, retire ton casque et vas te régaler avec ton adorable chien. Aide la dame qui vend des crèmes glacées à servir de délicieux cornets de crème glacée et des glaces à l',eau. Ensuite, ferme le passe-plat et aide la dame à conduire cet impressionnant camion multicolore jusqu',au prochain arrêt !
15,49 €
3 févr. 2021
CDISCOUNT
LEGO® City 60253 Le camion du marchand de glace
Jeu de construction - LEGO City - Référence 60253 - 200 briques - A partir de 5 ans
17,90 €
3 févr. 2021
ZAVVI
LEGO City: Great Vehicles Ice-Cream Truck Building Set (60253)
Ding-a-ling-a-ling! Yummy! The LEGO® City Ice-Cream Van has arrived! Take one more circuit on your cool skateboard, then flick up your board, remove your helmet and head over for a treat together with your cute dog. Help the ice-cream lady serve delicious ice-cream cones and lollies. Then close the serving hatch and help drive this awesome, multicoloured van to the next stop! Know a child who loves ice-cream vans? Kids can enjoy sunny, summer-day fun with this LEGO® City Ice-Cream Van building set toy – designed to inspire creative, independent role-play based on everyday life. Building set for kids featuring a brightly coloured ice-cream van with ice-cream lady and skateboarder minifigures, plus a dog figure. Perfect for imaginative, independent play. Kids can help the ice-cream lady drive the van, serve ice-cream cones and lollies from the serving hatch and help the skateboarder perform cool tricks. This colourful ice-cream van is also a great display piece. The LEGO® City Ice-Cream Van (60253) toy makes a great Christmas, birthday or any-other-day gift for kids aged 5 and up and for boys and girls who love toy vehicles. Requires only basic building skills. When built, the ice-cream van measures over 4 (11cm) high, 5 (15cm) long and 2 (6cm) wide. Plenty of room for the ice-cream lady to drive the van and serve customers. This supercool LEGO® City Ice-Cream Van playset doesn't need batteries – it's powered by small kids with big imaginations, so the play can start right away. Building really is child's play with this building set. It comes with a printed building guide and Instructions PLUS – an interactive building guide for kids. Available in the free LEGO® Life app for smart devices. LEGO® City Great Vehicles toys inspire creative play, help kids improve physical skills and grow confidence. Kids get to explore all kinds of vehicles and create play scenarios that reflect life in a fun, exciting way. LEGO® building sets meet the highest industry standards to ensure that LEGO City playsets are consistent and compatible, and that all LEGO pieces easily connect and pull apart – every time. At The LEGO Group, we put our LEGO® pieces through rigorous tests to ensure every one of our toy playsets meets the highest global safety and quality standards. Age: 5+ Number of Pieces: 200
18,49 €
3 févr. 2021
FNAC
LEGO® City Great Vehicles 60253 Le camion de la marchande de glaces
Fnac.com : LEGO® City Great Vehicles 60253 Le camion de la marchande de glaces - Lego. Achat et vente de jouets, jeux de société, produits de puériculture. Découvrez les Univers Playmobil, Légo, FisherPrice, Vtech ainsi que les grandes marques de puériculture : Chicco, Bébé Confort, Mac Laren, Babybjörn...
19,99 €
3 févr. 2021
DARTY
Lego Lego 60253 le camion du marchand de glace city
24,76 €
3 févr. 2021