Meilleur offre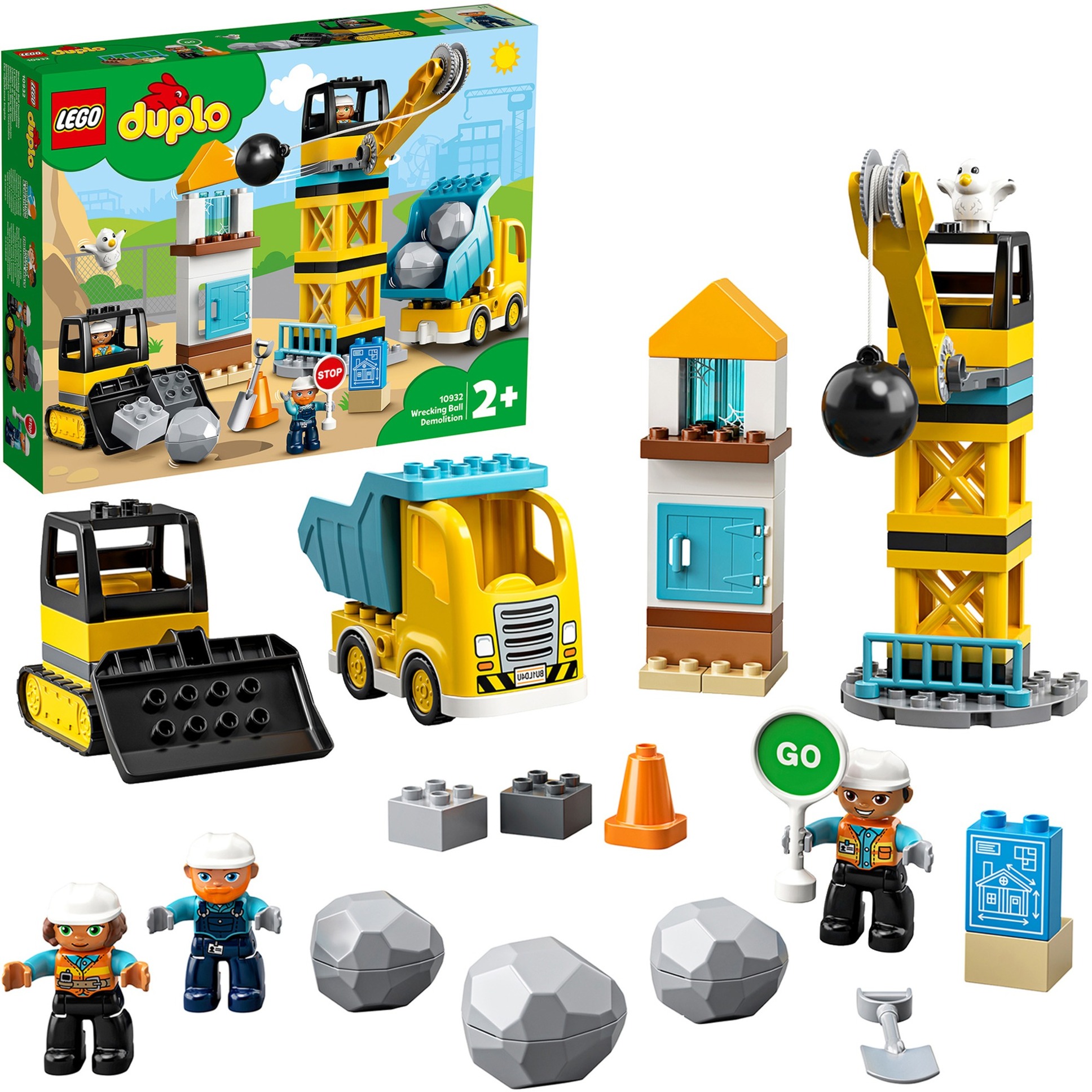 ALTERNATE
43,29 €
3 févr. 2021
Les offres
5 offres
ALTERNATE
DUPLO La boule de démolition - 10932, Jouets de construction
Parents et tout-petits peuvent jouer ensemble, faire balancer la boule de démolition latéralement pour démolir la petite maison, nettoyer le chantier avec le bulldozer et livrer de nouveaux matériaux avec le camion. Lorsque les enfants d'âge préscolaire découvrent le jeu sans limites avec ce jouet contenant une boule de démolition, ils développent de précieuses compétences physiques et cognitives utiles toute la vie.
43,29 €
3 févr. 2021
CDISCOUNT
LEGO® DUPLO® Construction 10932 La boule de démolition
Les enfants vont adorer le set LEGO® NINJAGO® L'animal de combat de Zane (71719), qui comprend 4 figurines à construire pour s'amuser seul ou entre amis. Ils peuvent s'immerger dans cet incroyable monde fantastique avec les héros Cole et Zane et les aider à s'échapper de l'effroyable donjon de Shintaro.
46,90 €
3 févr. 2021
ZAVVI
LEGO DUPLO Town: Wrecking Ball Demolition (10932)
The LEGO DUPLO Construction Wrecking Ball Demolition (10932) toy for toddlers provides open-ended play with an adjustable crane, tipper truck and bulldozer toy. Enjoy playing with 3 construction workers, a crane that moves up and down and from side to side, a bulldozer with heavy-duty tracks and opening cabin, a dump truck, a small house and accessories including boulders and signs. Parents can share endless fun with toddlers while swinging the wrecking ball to demolish the small house, clearing the site with the bulldozer, delivering new construction supplies with the truck and building the house back up again. The range of LEGO DUPLO Construction playsets is designed to provide preschoolers with toys that stimulate and satisfy their growing needs. Sets can be combined to increase the play benefits even further. The crane measures over 11" (28cm) high, 3" (10cm) long and 4" (12cm) wide. Contains 56 pieces. Features: Features an adjustable crane, dump truck, bulldozer with wheels, a small house and a selection of boulders Includes male and female construction worker figures, a bird figure, house construction blueprint , shovel, road barrier and cone Kids can swing the wrecking ball from side to side to demolish the small house, then clear the site with the bulldozer and the truck This playset uses big bricks elements designed to be easy for small hands; an ideal LEGO starter set for preschool boys and girls Construction site toy with vehicles and workers assists 2+ year old toddlers in developing emotional abilities and fine motor skills Age: 2+ Number of Pieces: 56
51,99 €
3 févr. 2021
FNAC
LEGO® DUPLO® Town 10932 La boule de démolition
Fnac.com : LEGO® DUPLO® Town 10932 La boule de démolition - Lego. Achat et vente de jouets, jeux de société, produits de puériculture. Découvrez les Univers Playmobil, Légo, FisherPrice, Vtech ainsi que les grandes marques de puériculture : Chicco, Bébé Confort, Mac Laren, Babybjörn...
59,99 €
3 févr. 2021
DARTY
Autres jeux de construction Lego 10932 la boule de demolition duplo ville
61,87 €
3 févr. 2021